Christina Rubino
Junior's Cave
Music Interview
with Indie Singer/Songwriter, Christina Rubino
Fall (November 2013) Edition
Sonicbids Weekly Music Series
by Isaac Davis Junior, BGS, MBA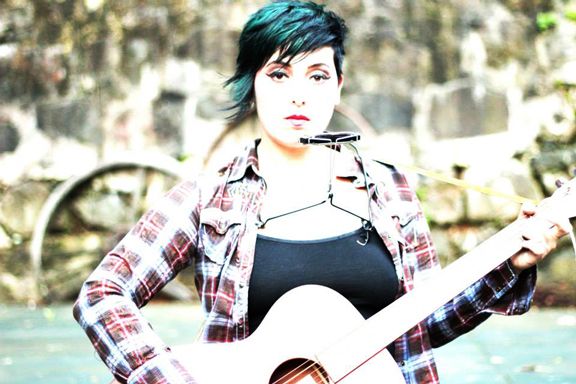 Christina Rubino
Photo Submitted by Christina Rubino
Indie Singer/Songwriter is an amazing example of why creative and original indie music must be supported. Christina Rubino has a great and powerful voice that is laced over crafty meaningful lyrics in the Americana, Folk, and Alternative music genre. Rubino spoke to our online magazine about her music and what it means to be an Indie Performer. We also spoke to Rubino about her musical influences and what sets her music apart for the masses. Here is what formulated from our online meeting.
Isaac: Music is so important to many cultures. Why is music important to you?
Christina: Music makes itself important. It demands expression, and then it demands attention. It's a visceral part of every human, and that's why music is such a defining & prominent aspect of every culture. It's right up there with food, and humans need food. Humans also need music. The music starts from deep inside, and then propels an artist to express it. A great song refuses to go unnoticed; it plows straight through our defenses and dives right into our souls. So, this question is hard for me to answer– I don't know why or how music has this power over me or you for that matter.
Isaac: Could you elaborate a little about your upbringing that led you to want to make music?
Christina: I was brought up in a pretty unpredictable atmosphere. There was a lot of violence, loss, and substance abuse in and around my family, but I had an older sister who played music …..and who also got sober. She exposed me to some incredible songs by playing them for me on an acoustic guitar as a kid. Songs like Father and Son by Cat Stevens, Leader of the Band by Dan Fogelberg, Landslide by Fleetwood Mac. Hearing her play woke up the music in me. It brought me hope, and music made me forget my fear for a few minutes. There was a tiny escape into beauty and hope during every song she sang me. When it came my time to be inspired as a teenager, I didn't think of music as something that was for super talents on the radio. I wasn't afraid to try because I knew that real people could make real music; I knew it because I saw it.
Isaac: What do you believe is the one element that makes your music, lyrics, and voice stand apart from others in the Indie Music Industry?
Christina: If I had to name one single element, I would name my own personal truth. We all have a truth…..and we all have a story – if our art is inspired and honest, it will be uniquely ours, always.
Isaac: What is it about making music that you enjoy the most and why do you enjoy performing it?
Christina: I most enjoy that moment when an inspiration starts buzzing at the bottom of your belly, and you can almost hear the song trying to break through. You scramble for an instrument, a pen and paper, and you frantically start writing. With every chord or lyric, you can feel if you're getting warmer or colder – once the inspiration has moved through you, you play that first verse and chorus…..then you can finally hear what the song was trying to say. That is the BEST part of the process. Performing music, for me, means tuning back into that place where I was when I wrote the song (you know, the BEST part). The emotions, the thoughts, the inspiration all come to life again and live to their absolute fullest while playing live. If I am nervous or worried about being judged during a performance – It can be difficult to get to that place. A LOT of practice prevents that from happening, which can be a grueling aspect of any craft. The more you practice and play live, the easier it is to get past the normal discomfort of being in front of a room full of people.
Isaac: If you have to name a few of your musical influences, who would they be and why?
Christina: Oh I love this question. First of all, what many people don't realize because I am an acoustic, rootsy artist, is that I listen to a lot of punk rock. Bands like Social Distortion, Rancid, the Ramones, to name a few – are a HUGE influence on me. They tell the truth. There are many others though – Janis Joplin, Sinead O'Conner, Johnette Napolitano (Concrete Blonde), Ani DiFranco, Joan Jett, Bonnie Rait – These are some badass women with serious talent and soul.
Isaac: What makes being an Indie Band/Performer great in your opinion?
Christina: Indie = Independence. It's the same thing that makes a mom and pop shop better than Target. The cashier at Target doesn't care if your chicken is free range, fat free or free falling. The independent music scene and the DIY scene are teeming with people who are moved by the music, not by the money. If you are connected to a good bunch of people, then music is about giving, not taking. It's about unity & community….and it's about service. If I wanted to make lots of money, I would have shot for med school – and I would rather hang up my guitar for good than be told what to wear, what to say and who to be in order to cater to a certain demographic for record sales. The goal of true independent music is to connect with people, share your talent & touch their hearts.
Isaac: What do you believe it will take for indie performers to gain the recognition as their mainstream counterparts?
Christina: Sacrifice. I think Macklemore & Ryan Lewis are a fine example of what you are talking about here. Is it likely, or easy to gain that kind of recognition? Well, as Mack would say – "Hella No." It takes a tremendous amount of dedication, work….and of course touring. Grueling, unfunded touring while staying on top of your music marketing & fan relations via social media and Internet ventures. A great team around you helps a lot too – but the artist still must be accountable that everyone is doing their part.
Isaac: Why do you believe that mainstream radios are so reluctant to play indie music?
Christina: For the same reason Target won't carry my neighbors delicious home made cookies – politics, long standing relationships & money. They cater to the masses. You have your exceptions only when the mainstream radio will benefit from an artists hard earned following. I doubt you will ever find a mainstream program director adding a lesser known band to the playlist because he "believes in them".
Isaac: What do you believe is the main reason why your music is creating a buzz in the Indie Music Scene?
Christina: I took a couple of years off from performing and recording in order to get my act together, and by act I don't mean my performance. All my old friends (and new friends) are happy to see me playing again, and they're all very supportive - not only of this album I have recorded, but of my sobriety as well.
Isaac: If you had an opportunity to work with anyone in the music business, who would it be and why?
Christina: Linda Perry, because she is such a versatile and respected songwriter…..but let's hope that doesn't happen any time soon because I would likely have a heart attack. She is a creative powerhouse, and drooling on my chin would look incredibly unprofessional.
Isaac: How would you describe your music to others who are not familiar with your band?
Christina: I keep it simple – it's rootsy music, strings and voice. Banjos and harmonicas are involved. When the lights go out, I can still play for you. Some people call it Americana, some say Alternative Country – others say Folk Music- I say, just listen to the damn song and figure it out for yourself
Isaac: What are you currently working on at the moment with respect to your music?
Christina: I go into detail in my bio, but I have just independently recorded an 11 song solo album that is in currently halfway through the mixing process. It will be released physically & digitally late 2013 and available on iTunes, Amazon, & CD directly through my website and on CDBaby.
Isaac: How can fans learn more about you and your music online?
Christina: You can start by streaming some music via soundcloud on my website,
www.ChristinaRubino.com
…..and if you "like" it, then like it at
www.facebook.com/ChristinaRubino
and if you are still web surfing after that, follow me on Twitter at
twitter.com/XtinaRubino
.
Isaac: Final Words….
Christina: Don't settle for just any music. Music is food for your soul, so find the stuff out there that is nutritious for you. If you wouldn't eat McDonalds every day, then don't listen to all the crap the media machine is throwing at you. Okay, that's enough out of me…..One last thing….Compliments to Isaac, the questions on this interview we some of the most engaging I have ever been asked and they challenged me! Good work
Isaac: You are quite welcome Christina. It was our pleasure.
Trackbacks