21st Century Fugitives
Junior's Cave
Music Interview
with Indie Rock Band, 21st Century Fugitives

Early Spring (April/May 2013) Edition
Music Now Spotlight
by Isaac Davis Junior, BGS, MBA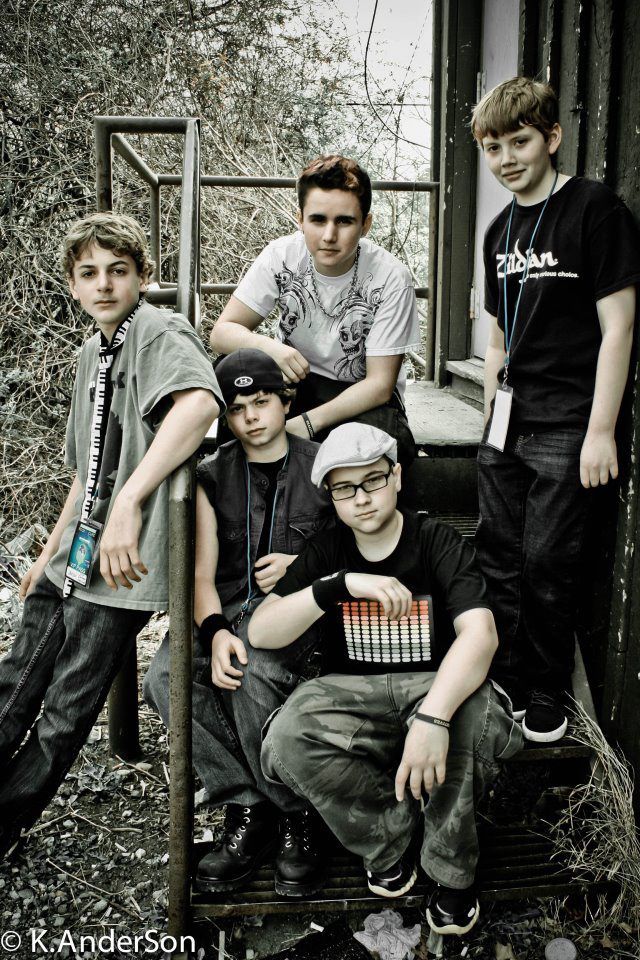 21st Century Fugitives
Photo by K. Anderson

We are delighted and excited to bring to our online pages this next Rock band that promises to impressed music lovers around the globe. Meet 21st Century Fugitives, an original rock band from Boston, MASS, comprised of five 13 and 14 year olds. John Lucas on vocals, Jimmy Bezreh on guitar, Jaden Mendola on bass, Gavin Burke on drums and Jackson Kehoe on keys are the masterminds behind the magic of what makes this band a sure win. To say that this band knows how to Rock is an understatement, 21st Century Fugitives have created a terrific sound and style that will certainly put them on the map of the music industry quickly. Here is our spotlight with the band to learn more about their quest to bring their music to the masses. Enjoy!
Isaac: The Indie Music Industry is an amazing beast. Many music critics have stated that Indie Music is on the rise with many new performers being discovered each day. Do you believe that indie music artists can rise to the level of stardom that their major music studio counterparts are able to now?
21st CENTURY FUGITIVES: Well, we're 13-14 years old, and we've been playing out for about a year and a half now…we started out at age 11-12. We are very fortunate to live in Boston, which has always been a really great music city. We've been very lucky to get to play a lot of All Ages shows at the House of Blues, the Hard Rock, The Middle East, The Midway Café, The Beachcomber, Ryles Jazz Club, Boston Market. But, with so many artists out there, even the very talented need a break. But sure, a talented indie could rise to stardom if the fans make it happen.
Isaac: What do you feel has been your biggest contribution you have made to Indie Music Industry thus far in your career?
21st CENTURY FUGITIVES: We have shown that there is no age requirement for commitment or talent. We love real rock, and we have found that there are so many fans that love it too. People are reluctant to take us seriously when they hear that we're 13. But when they hear us play, they are shocked that we are real rockers. Our original songs "Balls to the Wall" and "Epic Fail" have been getting some national attention which is very cool. Tony Hawk, Quiksilver, and MTV have shown interest in those songs and Warner Brothers Records chose us as the winners of a battle at the House of Blues not too long ago. We've been lucky to have the support of some great local promoters as well like Keynote Company and Fleming Entertainment Enterprises, and Bloggers such as MJ Wilson who are supporting indie bands. WATD's "Almost Famous Radio" 95.9FM has also been really good to us, and plays our originals on the air. Peter Dayton of LaPeste said of our cover of his Spymaster "I love this." Lately we have been playing for charities and benefits. Next month we're headlining "Rock for a Cure" in MA.
Great Music Reviews have been key for us too. Freshmusikk.com said, "Don't underestimate them.", and that's it in a nutshell.
Isaac: I am interested to know if you could go back and change anything about your own musical career, what would it be and why?
21st CENTURY FUGITIVES: No, nothing. On our very first outing at the Marshfield Fair Battle in MA, we were 12, and there were no expectations of us…nobody had heard us live. Only 12 year olds would sing "Walk This Way" in Steven Tyler's hometown, right? We started playing, and even the judges sat up. We were the only preteens in the battle; it went up to age 27. But, we came in First Place. How could we change anything after a start like that?
Isaac: I am curious to know do you feel that the music industry as a whole is surrounded by an endless pool of undiscovered talents or overcrowded with mediocre performers. Are you currently signed with any of the Indie Music Labels? If not, what are you looking for in any music label that you hope will complement your music?
21st CENTURY FUGITIVES: People who are not in the industry probably have no idea how many artists are out there…and so much talent! We were one of only 100 bands selected nationwide for the semi-finals of schooljamusa this year, which was so cool for us. The talent this year was unreal! We didn't make the final 8, but, the 100 bands' support of one another was amazing! We all realize how tough it is.
We would need a label that loves rock and realizes that there is a place for rock in the younger market. Adults love our music, yes. But when teens hear us play, they get pumped up, and come back to our following shows.
Isaac: What do you feel has been one of the biggest challenges for you to bring your music to the masses?
21st CENTURY FUGITIVES: When we think of our challenges, it's a wonder we've done so well as we have. Our biggest challenge is our age. We're now 13 some turning 14, and we think people just hear that and don't take the time to listen. It is hard to get people to take us seriously because we're so young but when people catch one of our live shows, they change their minds. We do miss out on playing some venues and some bigger shows because of our age. Getting people to see the talent before the age is key. And, realizing we're not a boy band, but a rock band.
We think people are afraid that we'll be unprofessional because of our age, but really the opposite is true. We know we are really lucky to get to play out live and we never take that for granted. We are always completely professional, on time, and easy to work with. Each of us has been doing our music since we were 5 years old.
Another challenge is that we don't go to the same schools or even live in the same towns, and we're too young to drive ?. We only get to rehearse via scheduled time frames (thanks to our parents) which limits rehearsal days. Our music director, Billy Jenks, helps to keep us on schedule at rehearsals. But we're committed!
Since we're too young for regular jobs, we have restricted funding. We'd love to get a sponsor, but right now, our parents are paying for everything. For example, we have had some national offers, but legal expenses are enormous just to have someone review a contract. Outlets want to use our original music, which is great to get it out there, but we need to know how to protect our music as well.
Our biggest MUSICAL challenge is bringing back real Rock one live show at a time. It's what we love, and we are sticking with it!
Isaac: One of the best attributes for any performer to possess is tenacity. What is your professional and/or personal drive that has made you continue to make great music over the years?
21st CENTURY FUGITIVES: We met at a jam session, clicked, and are not turning back. For a young band, people tell us they can't believe our music. Combined with the fact that we don't live near one another, yet still bring it to every show, we are determined to be professional. We've played with broken bones, high fevers, and broken equipment and always put on the best show possible. Not every 13 year old gets to record in a studio, perform before large crowds and hear their music on the radio. This is our thing.
Isaac: How has living in your current city affected the way you look at the music industry?
21st CENTURY FUGITIVES: Boston has an amazing music history and a crazy good current scene. Every Boston band we've played out with has been really nice to us and very supportive.
We've actually had the chance to do some recording sessions over the past year as well. We got to do a four song EP with three original songs and a remake of The Real Kids' "All Kindsa Girls" with famed Boston musician Dave Minehan at Woolly Mammoth Sound in Waltham which was awesome. We love the music from the Boston music scene from the late 70's through the 90s. We play All Kinda Girls and La Peste's "Spymaster" at a lot of our shows…Boston classics. We also got to record two songs written for us by Jacey Taylor Music (lyricist Jacey Carberry and Grammy winning producer Taylor Barefoot) at their studio. That was an amazing experience for us and we are hoping to get back into the studio this spring to record some of our new material.
We do a lot of festivals and charity events playing mostly cover songs which is fun but we also get to do all original music at club shows and we get to see the other bands playing those nights as well which is awesome.
We've missed out on playing some of the bigger shows around Boston like the Glamour Kills Festival and the Vans Warped Tour, which is disappointing, but hopefully we'll get there at some point. Our friends, the Barroom Heroes who are our age, are heading out to do a small tour with the Dropkick Murphys who kind of took them under their wing remembering how hard it is to get shows when you're not 21 yet. I guess that's really what we need….someone to give us a chance. Boston is full of great bands and musicians and I think it's also a really supportive music scene. Hey…who knows maybe someone will let us open for them sometime soon.
Isaac: We would love to see a music video from you! Do you currently have one that you can let our readers know about?
21st CENTURY FUGITIVES: Videos - • A live performance of our original song "Balls to the Wall":
http://www.youtube.com/watch?v=S5aEdb4aLxw
• A live cover of "Spymaster", music by LaPeste:
http://www.youtube.com/watch?v=cti22o3aeMo
• Our first gig together at Marshfield Fair, MA at age 11/12.
http://www.youtube.com/watch?v=_bPTwqABdqE
Isaac: At the end of the day, if you never reached musically to a certain level of fame and fortune, would you be happy that you made music on your own terms?
21st CENTURY FUGITIVES: Yes, we already do. We could change our style from rock, but never even considered it. It's who we are as a band.
Isaac: For those who want to learn more about you and your music, where can fans find you online?
21st CENTURY FUGITIVES: Links -
•
www.facebook.com/21stcenturyfugitives
•
www.reverbnation.com/21stcenturyfugitives
•
www.twitter.com/21stcenturyfug
Q: Finish this sentence for us: "Your music is something that will…"
21st CENTURY FUGITIVES: …."…stand the test of time".
Trackbacks
Friday, November 01, 2013 10:51 PM http://ugg-boots.1minutesite.co.uk wrote:
Junior's Cave Online Magazine Blogs: 21st Century Fugitives, Some related articles from:http://ugg-boots.1minutesite.co.uk or Search:http://ugg-boots.1minutesite.co.uk
Friday, April 04, 2014 12:32 AM jywqsjepch wrote:
Agree with your post. Can you can keep update your post. I wanna back. bye!