Mad Rapture
with Indie Group, Mad Rapture
Late Winter

(January/February 2013) Edition
Music Now Spotlight
by Isaac Davis Junior, BGS, MBA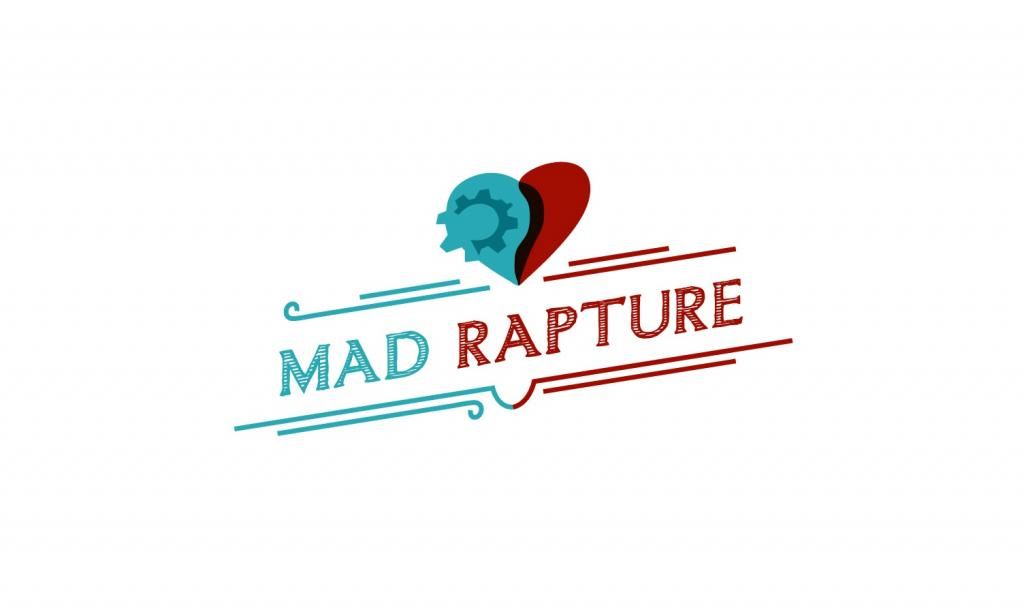 Mad Rapture Logo
Indie Group Mad Rapture is certainly creating the buzz they deserve in the Indie Music Industry. Their music is refreshing, fun, and creative that successfully mixes several genres into one fantastic sound. Music fans will fall in love with this group's tunes as much as this publication has. Check out this recent spotlight we had with Maia and P of Mad Rapture who share their wonderful story with us. Enjoy!
Isaac: Thank you for being a part of our weekly music interview spotlights. Let's get started. The Indie Music Industry is an amazing beast. Many music critics have stated that Indie Music is on the rise with many new performers being discovered each day. Do you believe that indie music artists can rise to the level of stardom that their major music studio counterparts are able to now?
Maia: I think we've already seen that trend happening, with musicians like Adele and Gotye and Foster the People unexpectedly having these huge radio hits with songs that sound nothing like what you would expect to hear on Top 40 Radio. I think access to things like YouTube and Pandora have made it far more feasible for unsigned artists to get major play. Listeners play a much more active role now in what gets airplay, which is great. The other things is independent musicians now have access to such amazing tools, like Ableton, the program Patrick uses to create most of our songs and add effects.
P: Simply put, it's never been easier for indie musicians to pursue music as a career and passion but, ironically, that's not to say it is an easy task by any means. It still takes heaps of dedication it's just that more opportunities are accessible to us.
Isaac: What do you feel has been your biggest contribution you have made to Indie Music Industry thus far in your career?
Maia: We're still quite new as a group, we've only been together a little over a year, but I'm very proud that both of our first EPs were entirely self-produced and self-released. Also, as much as it would be nice to be making more money on our music, I'm really happy with our choice to release our music for free to anyone who likes it. At this point at least, I'm just thrilled that people are listening to our music.
P: My favorite contribution is a bit of a personal win, and less so than a 'big' win in terms of numbers or sales. We were asked by our favorite indie Pittsburgh-based radio station (WYEP) to work with a teen musician, and mentor and help write a tune together. At the end, there is a great event with other teens and local band mentors. We are in the process of doing that now and it's quite fulfilling to know that you can make an impact on not just the ambiguous music biz bubble, but in people's lives – isn't that what music is about? (queue Disney music).
Isaac: I am interested to know if you could go back and change anything about your own musical career, what would it be and why?
Maia: I would have dedicated even more time and energy to writing and recording original music in my teens and during college, and I would've done so with less concern for what other people think about my music. I think I was scared to devote myself to it fully because there's no certainty in the music business. But now, I definitely feel that putting everything I have into our music is really something that brings me happiness, and life's short, so that's worth it!
P: I can't say that I have regretted or wish I changed anything, as of yet. One could say they wish they were more serious with it earlier/tried harder/etc. But that's a trade off because you would be losing a bit of whom you are and the experiences that have brought you to this point. To me, those characteristics and experiences are what make your art worth the attention – whether it's music, painting, or LARPing in the back yard with a foam sword.
Isaac: I am curious to know do you feel that the music industry as a whole is surrounded by an endless pool of undiscovered talents or overcrowded with mediocre performers.
Maia: Again, I think things like YouTube have made it clear that there are a truly staggering number of talented "amateur" musicians out there. It's actually a little scary how much talent is out there. I do think that one thing that's a bit rarer is really excellent songwriting. There are thousands of highly capable instrumentalists and vocalists but not nearly as many people who have a gift for storytelling or for putting a new spin on a very old concept, like love... I still have a lot to improve, but I like to think that Patrick and I bring pretty well-crafted songs and lyrics to the table.
We're going to be even more focused on the overall arc of our songs on the next CD. P: I don't really
feel
any emotion towards those two statements. I do agree that the landscape of the music business can be a bit uneven in certain territories, and it's shitty to see great musicians not quite fulfilling their dreams – in fact it's horrible because I sit there in awe wondering how this gent/gal isn't on the radio. I help run one of the sweetest open mics in the city, and every week my jaw drops for someone. It's amazing. But a lot of perceived 'luck' is simply a road of diligence.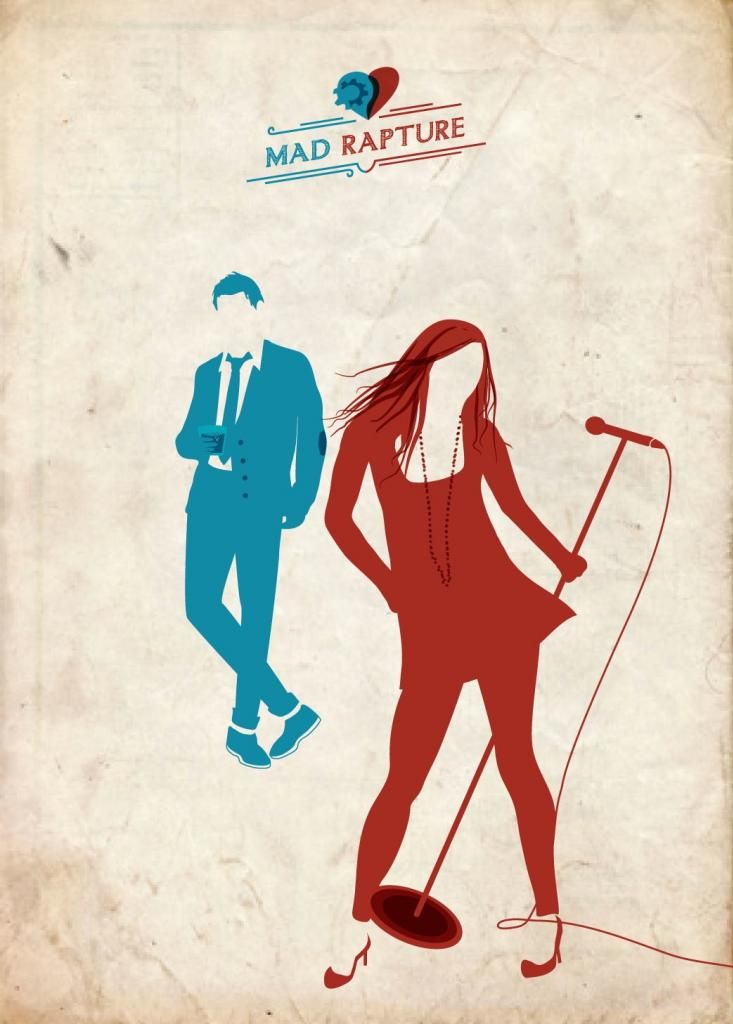 Mad Rapture Logo
Isaac: Are you currently signed with any of the Indie Music Labels? If not, what are you looking for in any music label that you hope will complement your music?
Maia: We are not currently signed with anyone. I feel we've been tremendously fortunate already in the opportunities we've had as an independent duo, so if we were to be signed with a label, I would definitely look for one that would allow us a lot of creative freedom. Otherwise, it might feel quite stifling.
P: We are independent, quite fine that way as well. But if a certain label wanted to court us, let it be known that I prefer Johnnie Walker Black… But like M. said, we would just want a relationship that is bangerang for both the group and the label. We know it works both ways.
Isaac: What do you feel has been one of the biggest challenges for you to bring your music to the masses?
Maia: I think it's sort of been a case of gaining momentum. For our first release, we had to rely entirely on friends and personal acquaintances spreading the word about our music via Facebook, twitter, etc. Now we actually have some listeners who aren't related to us!
P: I don't think we have had challenges. I am actually quite thankful for all the outlets and badass people helping run badass organizations that care so much about music. There're a lot of likeminded, kind people in this world.
Isaac: One of the best attributes for any performer to possess is tenacity. What is your professional and/or personal drive that has made you continue to make great music over the years?
Maia: I'm pretty driven and type A in general, to be honest. So I would have to say I approach most things in my life with the same drive and a goal-oriented approach.
The one difference I would note with music is that it's not just my personality, it's something I need to do to stay sane. I start getting really cranky and cynical if I don't do music for a couple of weeks. So my drive to songwrite and record and perform is almost by necessity; music is my greatest catharsis.
Also, for me, collaboration is key. All the things I don't know how to do, Patrick can do. And hopefully there are a few things I know how to tackle better than he does... so we make each other better, and keep each other creating consistently.
P: I don't believe in the idea that there are motivated and unmotivated people – I think it just comes down to deciding to act rather than not. Only hard bit for some is finding out what you actually give a damn about.
Isaac: How has living in your current city affected the way you look at the music industry?
Maia: Pittsburgh is an incredibly friendly and down-to-earth city. People will be honest with you, but they'll also be incredibly supportive. Living here has definitely demonstrated the importance of word of mouth. The success of our shows has depended entirely on our wonderful friends and family bringing people along.
P: Pittsburgh is a gem. I consider it to be getting more and more up and coming with acts like Mac Miller and Wiz Kalifa (both of which are on a great indie label here.). Even though Pittsburgh isn't known as a traditional music hub like SF or Portland – it's definitely receptive and supportive. It is in my blood and will always be my home.
Isaac: We would love to see a music video from you! Do you currently have one that you can let our readers know about?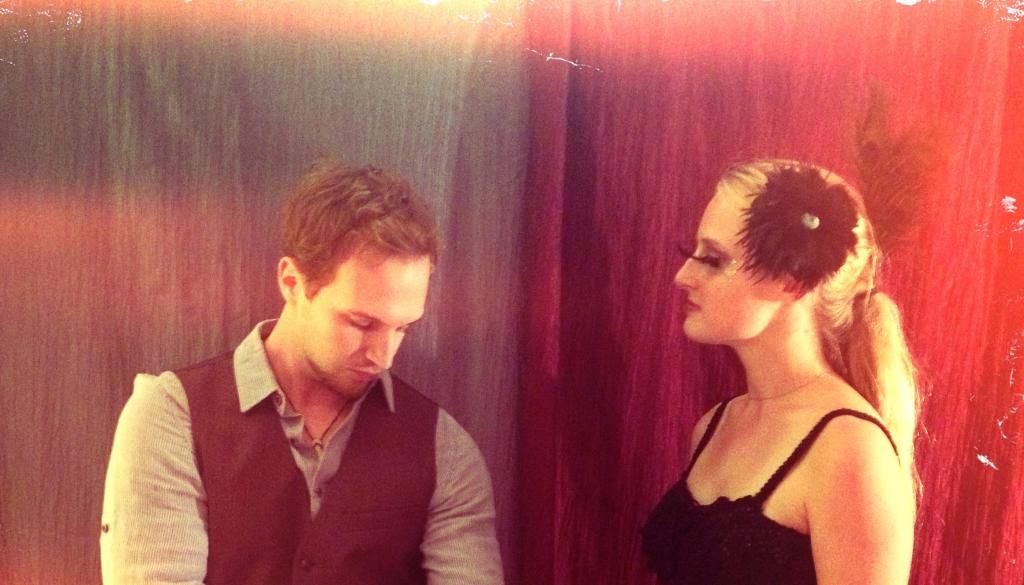 Mad Rapture
Photo Courtesy of Mad Rapture

Maia: We don't yet, and that really is a top priority for us in the next six months or year, but we are in the process of working with a young animator for a funky animated video. I think it'll be a bit different from everything else out there. In the meantime, we have some live videos and songs up on YouTube.
P: Right now, we have some sweet live videos. There are definitely some cool things coming in the pipeline of awesomeness as M described. You can watch us cover Criminal by Fiona Apple here!
www.youtube.com/watch?v=lxYkpO5uli8
Isaac: At the end of the day, if you never reached musically to a certain level of fame and fortune, would you be happy that you made music on your own terms?
Maia: I think we still have a long way we could go, but I've already been fortunate enough to experience some of my long-term personal goals; hearing our songs on the radio, getting played on TV, and having people tell me they've been listening to our music in their car or on their ipod or whatever, and bobbing their head. They're relatively small things, but I feel like I've already experienced a degree of creative satisfaction with Mad Rapture that I wasn't sure I would ever achieve. I'm very lucky to have fallen into this partnership. But we'll keep going and see where it takes us.
P: It depends on your goals. And sometimes your goals change, and that's quite fine. All I know is right now; I am ear-to-ear grin happy. That's what matters.
Isaac: For those who want to learn more about you and your music, where can fans find you online?
Maia: We're everywhere! They could check out our "official" website at
www.MadRapture.com
, and we're also on Reverbnation, Facebook, Twitter, Soundcloud, Youtube, Jango, Itunes... you name it.
Isaac: Finish this sentence for us: "Your music is something that will…"
Maia: "…make people feel something. I don't care what it is, but if our music moves people in some way, that's pretty fantastic".
p. "I just want to make someone dance." That was said by a previous musician friend. It's quite elegant. Even if it isn't dancing in the sense of breaking it down, but just having a simple head bob will would be great – just so they feel it.
Trackbacks
Wednesday, April 10, 2013 2:57 AM ミュウミュウ 財布 wrote:
We have a reason people become hooked on drugs. The psychiatric aspect of being addicted to drugs can be very powerful. Our minds are very complex and the thoughts we have can become rulers in our lifestyles.
Saturday, April 20, 2013 3:25 AM ミュウミュウ アウトレット wrote:
It is strongly recommended that you carry your needle and thread inside your survival kit. These materials can be accustomed to repair torn clothing. You can also stitch up a wound to stop heavy bleeding in case a trauma occurs and you can't get medical attention right away.
Wednesday, June 05, 2013 1:42 PM google wrote:
Google http://www.google.com