with

 Indie Band,
 The Running Chickens

Early Fall (August 2014) Edition 
MusicSUBMIT

 Weekly Music Series
by Isaac Davis Junior, BGS, MBA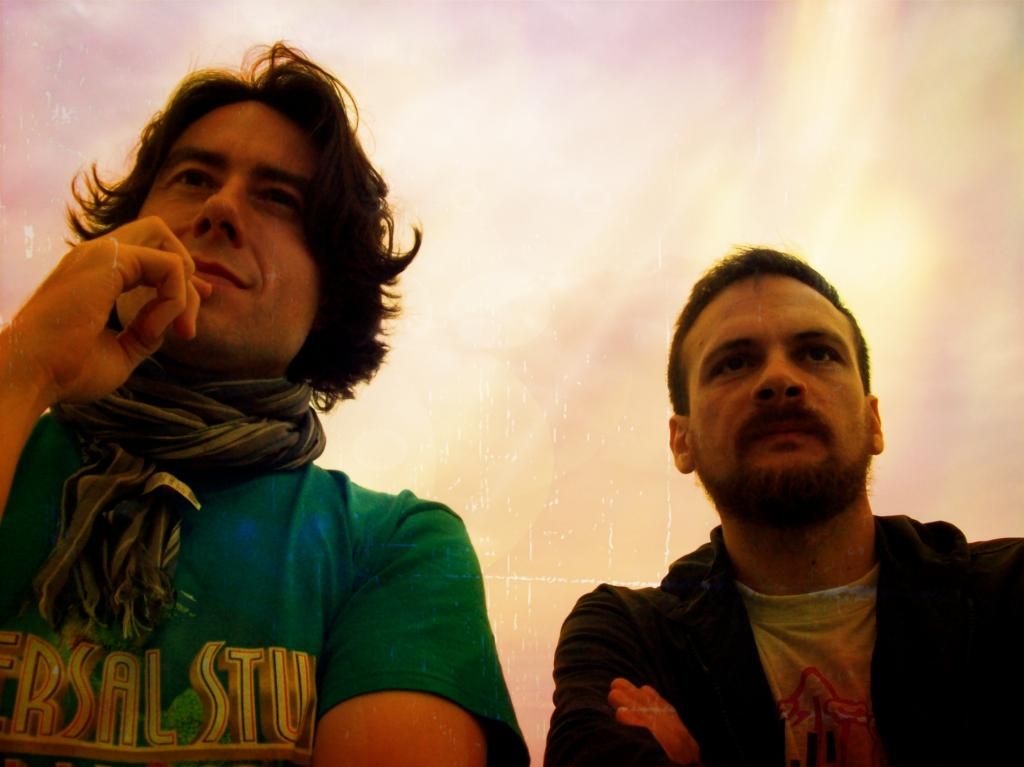 Stevolaz & Budo are The Running Chickens
Great music comes from all over the globe, and this next band certainly proves this with their incredible sound. We are delighted to present the music of The Running Chickens. The talented duo, Stefano Dentone (Voice, Acoustic & Bass Guitars) and Marcello Dondero (Acoustic, Electric, Slide Guitars, Dobro & Mandolin) fit perfectly as the two musicians create a special blend of feel good music. We spoke to Dentone and Dondero recently about the band's music and other fun facts that will make you an instant fan. Here is what developed from our marvelous online encounter.
Isaac: I would like to ask you for the readers of this online publication who have never heard your music, explain your sound in 5 words:
The Running Chickens: ROCK, ROOTS, BLUESY, DREAMY, ATMOSPHERIC.
Isaac: With respect to musical icons, who would you consider to be your most significant musical influences?
BUDO: The Allman Brothers Band, Pink Floyd, Mad Season.
STEVOLAZ: Elvis Presley, The Rolling Stones, The Allman Brothers Band…
Isaac: Do you have a favorite song to play from your collection so far? (secondo me intende una canzone della nostra collezione di dischi, non un pezzo nostro… io risponderei qualcosa del genere)
The Running Chickens: We don't have a single favorite song to play… mostly it depends on our mood… sometimes it is in our song; sometimes it is one of the other artists.
Isaac: I am interested to know who you are listening to at the moment. What bands and artists should we have our ears on right now who you think deserve the spotlight?
The Running Chickens: At this time we're listening Matt Corby, Jeff Aug, Lee Bains III & The Glory Fires, Grayson Capps… but always we follow with interest the most famous Steven Wilson, Moe, Phish, Umphrey's Mc Gees, North Mississppi Allstars, Jonathan Wilson… and superstars like Ryan Adams, Derek Trucks, Gov't Mule or Ray LaMontagne.
Isaac: Since you write your own music; where do you draw inspiration from when you write songs and what's your favorite part about the process?
The Running Chickens: Inspiration is a strange thing and it depends by many factors: joy, anger, fear, disappointment, feelings, sadness… Everything could be an inspiration for the creative first step!
There is a moment when we combine our ideas… different perspectives come together in one… in that time we have "the promise" of a new song … it's a draft, it is not yet a finished drawing. Perhaps this is the most exciting moment, because we can give free hand to our imagination.
Isaac: If you could go open up for any artist on tour right now who would it be? (io metto i tre che per me sono un sogno proibito, poi tu aggiungi chi vuoi :-))
BUDO: Phish, Gov't Mule.
STEVOLAZ: Eric Clapton, David Gilmour, Neil Young.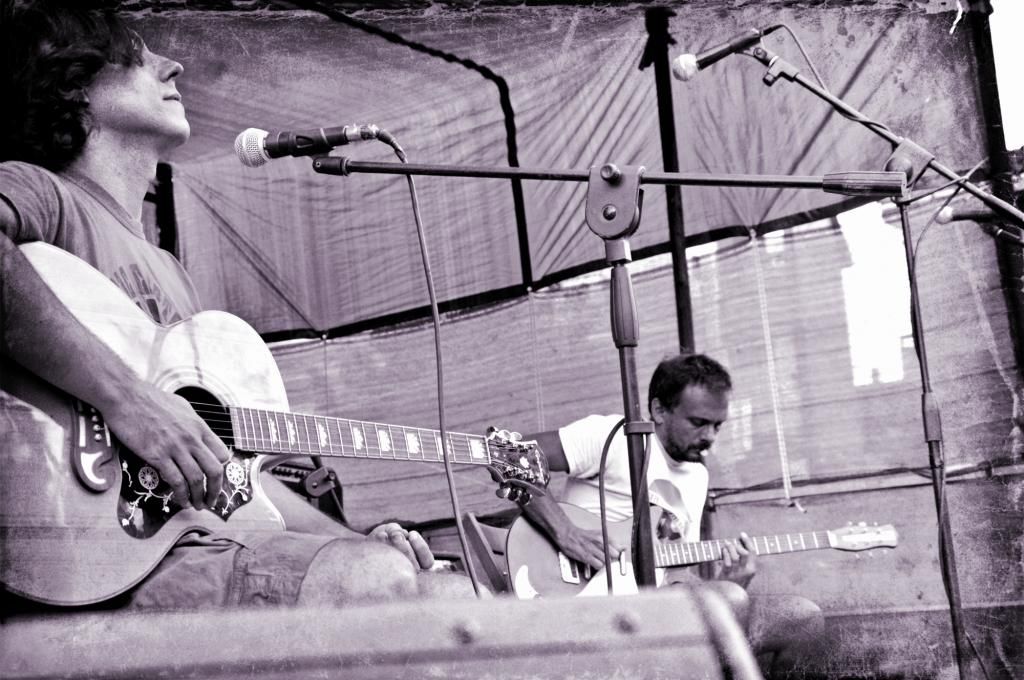 The Running Chickens Live @ Woodnight Rock Festival 2013
Isaac: So, what's your favorite thing to do when you aren't writing/producing/playing etc?
The Running Chickens: When we don't play guitars, we are very normal people :-)… so we love running or go to the beach… we love drinking a good wine or a good beer… spending time with our women or friends… watching old movies on TV… very ordinary things!
Isaac: Now for our non-music question: Name five things you can't live without?
The Running Chickens: Our women, our dogs, our guitars, our beers (or wine), the sun.
Isaac: What is the most trouble you've ever gotten into when you are performing or on the road that you can let us in on?
The Running Chickens: Once we played in a very hot venue. The temperature was so high that our brains had gone haywire!!! We played our songs as always, but with strange arrangements… we were in a trance because the hot, so we improvised… almost like a jam session! At the end of the show, the audience was excited for the new things that we proposed!!!
Isaac: Knowing what you know now, would you do it again?
The Running Chickens: Almost everything … not really all that we have done. We made our share of mistakes.
Isaac: If you were not performing, what do you think you would be doing professionally and why?
The Running Chickens: Actually, we are the indies… we aren't professional musicians… we'd like to be able to live with the music! In any form, but with the music.
Isaac: What's your motto or the advice you live by?
The Running Chickens: Being able to do it by yourself.
Isaac: Ten years from now you will be….
BUDO: … teaching the guitar to my son.
STEVOLAZ: I have no expectations… I learned to live day by day.
Isaac: As a send great off, tell us about one of your greatest moments as a performer.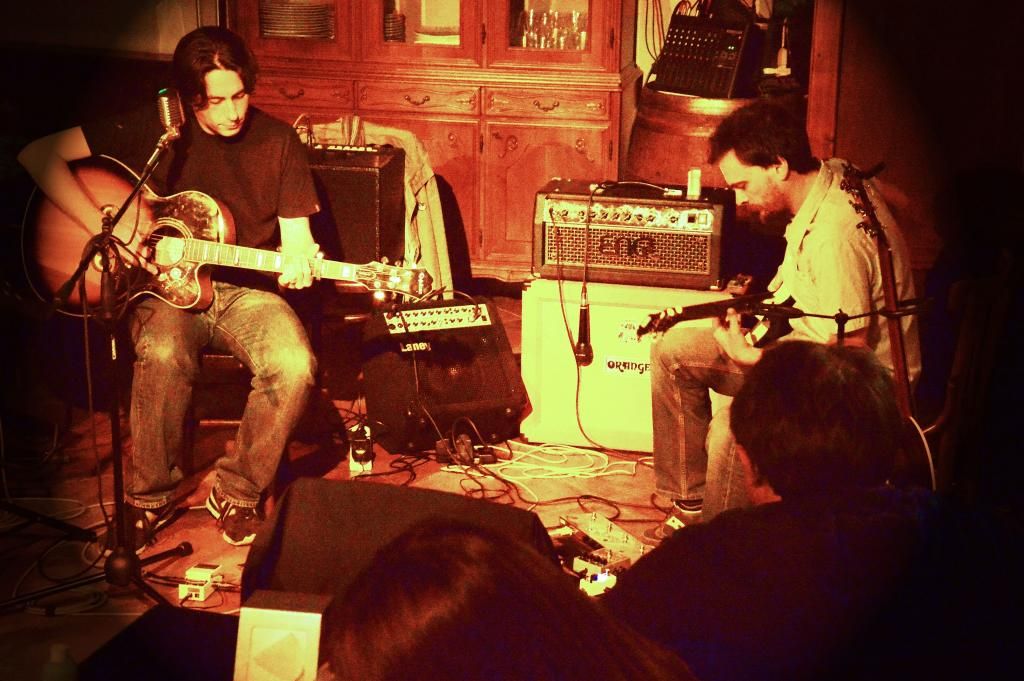 The Chickens playing live during 2013/2014 tour
BUDO: A few years ago, at the end of a show, I was approached by a very old man… He looked at me in the eyes and told me with pride: "… you must not be afraid to play! You are the number one!!!". I never knew who he was, but I'll never forget him!
STEVOLAZ: Once we were playing outdoors and the police came to stop the concert… The crowd began to shout and protesting … a few minutes later the police gone away and we start playing a crazy rock and roll stuff! It was exciting!!!
Photos used in this interview provided by The Running Chickens
Official Facebook Page:
https://www.facebook.com/pages/The-Running-Chickens/365470056902431
53 total views, 10 views today