Junior's Cave
Music Interview
with Atlanta Based Singer/Songwriter,
Ahmed El-Motassem
February/March 2015 Edition
MusicSUBMIT
 Weekly Music Series
---
by
 Isaac Davis Junior, BGS, 
MBA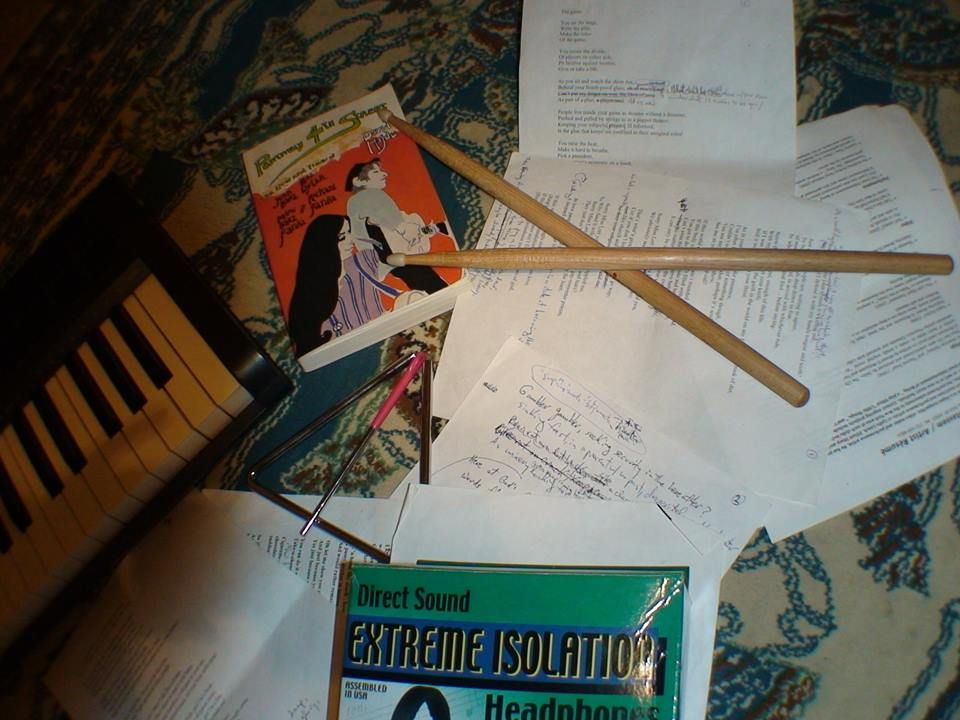 Ahmed El-Motassem
Photo Courtesy of Ahmed El-Motassem
Meet NYC-Based Singer/Songwriter Ahmed El-Motassem who shares with our publication/online readers his story of how he got his start in the Indie Music Industry. El-Motassem's music possesses a hypnotic multi-layered sound of vocals, keys and guitar that combines elements of new wave, alt-folk, avant-pop with a mid-eastern twist. Want to learn more? Then read on in this new exciting featured spotlight.
Isaac: It is a pleasure to speak with you via this important online conversation. I had a chance to review your press kit, and I must say that I am impressed, excited, and thrilled about your music. What do you think you will add to the Indie Music Genre that will set your music apart from others?
Ahmed El-Motassem: I hope to add an honest voice and an original poetic entertaining sound that is based on a uniquely bicultural – East meets West -experience.
Isaac: What has been your inspiration for pursuing a music career?
Ahmed El-Motassem: Everything that is wrong with our social order and everything that is beautiful about life.
Isaac: Why is music important to you?
Ahmed El-Motassem: It is a form of self-healing and a source of great joy.
Isaac: How has the whole experience of being on stage performing help you grow as an artist?
Ahmed El-Motassem: I used to think it didn't matter if you were understood, and performing on stage made me aware that I have a role to communicate with the audience or listener in a way that is caring and entertaining. It took me a few years of performing to take control of the situation, in the beginning I used to get a little lost on stage, at times not knowing who to be or what to do. A stage 'presence' involves more than just getting your parts right musically, you need to stay in character.
Isaac: How do you handle mistakes during a performances?
Ahmed El-Motassem: It depends, some mistakes you can incorporate into the sound and act as if it's part of the show. In general, I take a mistake as an alarm to fine tune my act to a better than ever status, that is as a way of making up for it.
Isaac: Do you get nervous before a performance or a competition? If so, what do you do to overcome your fears?
Ahmed El-Motassem: Every performance has an aspect to it like it's the first ever, because in a way it is. I can talk to band members or rehearse myself in a quiet corner somewhere as a way to ease the nervousness. Sometimes I comfort myself with thoughts like: relax we're all gonna die someday!
Isaac: Do you ever experience a writer's block when you are writing new songs? I can imagine this would be particularly annoying if you were in a collaboration situation. If you have in the past, what do you do to get over it?
Ahmed El-Motassem: I try to work on other than songs then come back to it, because songs can't be forced into completion. And yes, in a collaboration situation and under a studio deadline it can get quite anxious. Sometimes you're left with faith alone that it will come together in the last minutes! Though I would safely say that a writer's block ranks among the much nicer problems in life!
Isaac: What advice have you received from mentors about pursuing a music career?
Ahmed El-Motassem: I was advised to be to be persistent in putting out my work and to be humble and receptive about how others may perceive it.
Isaac: What advice would you give to beginners who are nervous about pursuing a music career?
Ahmed El-Motassem: I would say do it only if doing what you love and loving what you do means the world to you.
Isaac: With so much diverse music currently out, do you feel that your type of music is still relevant or important in today's music industry? What do you feel makes your music stand out for the rest?
Ahmed El-Motassem: My songs have an urgent quality about them, like they have to be written. I communicate and articulate ideas and feelings of the times we live in, and I do it in a unique way that sounds somewhat familiar yet doesn't quite sound like anyone else, a sound which often sharply divides listeners between who like and who dislike it; though rarely are people indifferent to it.
Isaac: How does music affect you and the world around you?
Ahmed El-Motassem: Music is a way of making a far from perfect world, perfect for a while.
Isaac: Why do you believe music is something that everyone should enjoy?
Ahmed El-Motassem: I don't believe music is something that everyone should enjoy, not if they're not into it or up for it. However, I believe music is a special language that ought to come from a cosmically harmonious place in us, and that makes it a special friend indeed.
Isaac: What do you think about downloading music online?
Ahmed El-Motassem: Well, it's made music more accessible than ever to purchase.
Isaac: Do you find that your songs typically touch people as much as they touch you?
Ahmed El-Motassem: Sometimes, sometimes apparently more so, sometimes apparently less so.
Isaac: When you are in songwriting mode, who are you thinking about when gathering your thoughts for your lyrics?
Ahmed El-Motassem: My songwriting mode goes through several phases. First, there is the conceptual inspiration, coming up with an idea or a short verse and a way to sing it. Then, verses are added and edited, as the musical accompaniment gets worked, and I think of making the sound feel related; as different parts of the same house of song.
Isaac: How prolific are you with respect to your songwriting skills? Do you believe it is a meticulous process to create your lyrics or do the lyrics flow naturally?
Ahmed El-Motassem: It is both, the meticulous work is in the editing and in finding the right sound for it and practicing it, but it has to be based on lyrics that originally flow. At the end of the day, the lyrics and music have to flow together as one being.
Isaac: What skills/personal attributes are most important to being successful in this music business? How do you promote your music and shows?
Ahmed El-Motassem: It takes a great deal of patience and perseverance to continue putting out new music. I currently promote my music through Internet/college radio, through email, music site, not to underestimate, word of mouth.
Isaac: If you had an opportunity to work with one of today's hottest artists or groups, who would it be and why?
Ahmed El-Motassem: 'Muse' I suppose, we have different musical styles but share a similar grand vision of a transcendental sound.
Isaac: Who are your favorite musicians? Groups? CD's?
Ahmed El-Motassem: Oh God so many, Buffy Sainte-Marie, The Flaming Lips, John Lennon, Jimmy Hendrix, Concrete Blonde, to name a few. Among my favorite CD's are Bob Dylan's Highway 61 and Blonde On Blonde, The Doors' first album and Strange Days, Pink Floyd's Ummagumma,
Sly And The Family Stone's There's A Riot Going On, Amy Winehouse's Back To Black and Arcade Fire's The Suburbs.
Isaac: Which famous musicians do you admire? Why?
Ahmed El-Motassem: I admire a lot of famous musicians/bands from different time periods and different continents. Currently, I would say Kate Bush, Bob Dylan, Donovan, Leonard Cohen, Tom Waits, Elvis Costello, Caetano Veloso and Tom Ze; they have continued to grow artistically and can still sound profound.
Isaac: The Internet plays an integral role with artists getting their music out to the masses. Do you have your own website and what will fans find there?
Ahmed El-Motassem: On my site, fans will find my latest CD with lyrics, a discography and links to other sites that feature other work I have produced in the past.
Isaac: At the end of the day, are you happy with where you are at professionally?
Ahmed El-Motassem: I am pleased with where I am musically though I often feel that my work has just begun.
Isaac: Who would you like to dedicate this interview to and why?
Ahmed El-Motassem: I would dedicate it to your readers since they are the ones who will take the trouble to read it.
Official Facebook Page:
https://www.facebook.com/ahmed.elmotassem.3