Junior's Cave
Music Interview
with

Indie Band, Fake Furs
May/June 2015 Edition
Sonicbids Weekly Music Series
by Isaac Davis Junior, BGS, MBA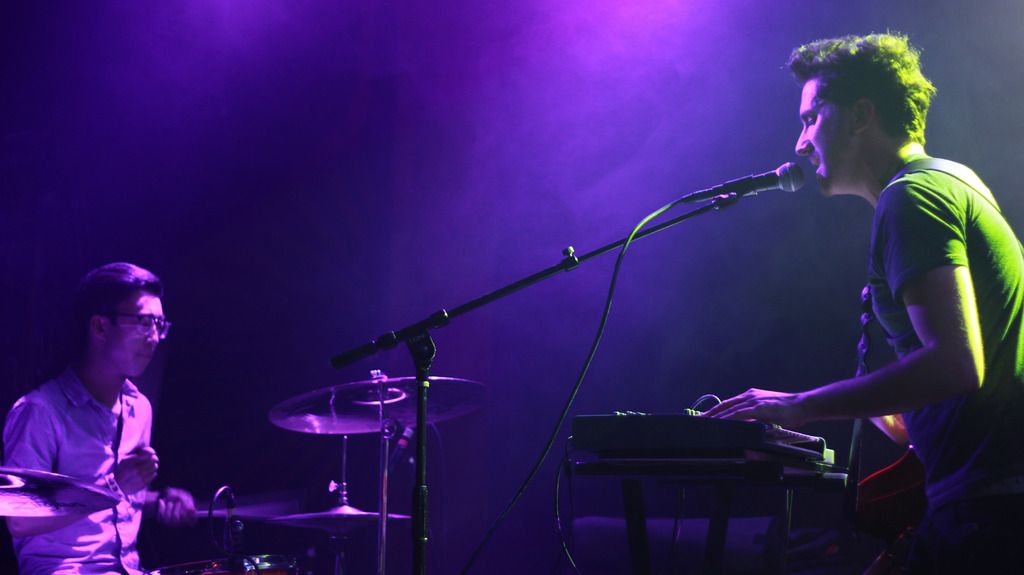 Fake Furs playing live at the Troubadou
Photo Credit: Ana Maria Hechanova Manso
We proudly present to our online readers of this Webzine our newest interview. Indie bands come in all shapes and sizes, and each indie band has that something special X-Factor that makes them stand out from the crowd. This can definitely be said with our latest indie band. Meet Fake Furs, a band of filmmakers, who make…music.
Fake Furs' sound consists of a distillation of intoxicating drum beats and magnificent guitar noise accompanying by strong melodies. We spoke to band members, Sonny Wong (Drums, etc.) and László Bolender (Vocals, etc.) who gave us an insight view of who are the Fake Furs. Here is what transpired from our fantastic online conversation.
Isaac: I would like to ask you for the readers of this online publication who have never heard your music, explain your sound in 5 words:
Sonny Wong and Laszlo Bolender: Leathery, filthy, hypnotic velvet rock.
Isaac: With respect to musical icons, who would you consider to be your most significant musical influences?
Sonny: Kevin Parker (Tame Impala), Wayne Coyne (The Flaming Lips) and Jon Theodore (The Mars Volta).
Laszlo: I'd say Erik Satie, Katie Jane Garside (Queen Adreena) and Josh Homme (Queens of the Stone Age) have probably had the longest-lasting impact on me.
Isaac: Do you have a favorite song to play from your collection so far?
Laszlo: I Want to Hold You By the Bridle holds a special place in my heart.
Sonny: Parable!
Isaac: I am interested to know who you are listening to at the moment. What bands and artists should we have our ears on right now who you think deserve the spotlight?
Sonny: I've been listening to Tame Impala and the whole Perth psych scene religiously.
Laszlo: I am super hooked on the new Daniel Lanois record, called Flesh and Machine. I really like this artist called Butterclock too. Also, you might want to check out Ghosts in Pocket, they're amazing live.
Isaac: Since you write your own music; where do you draw inspiration from when you write songs and what's your favorite part about the process?
Laszlo: It depends; sometimes it's Sonny and I as we improvise in rehearsals. Sometimes it's just Sonny or just me, and then we bring in ideas to each other that we work on. As to inspiration — cinematic imagery, literature… it's hard to say. When we like something, we tend to avoid trying to replicate it, because what would be the point? It's already been done. The songs always come first though, our ego has no relevance at all. But I think we both agree that our favorite part is when we both look at each other and nod our heads in approval at the same time.
Isaac: If you could go open up for any artist on tour right now who would it be?
Sonny and Laszlo: The Flaming Lips and Queens of the Stone Age.
Isaac: So, what's your favorite thing to do when you aren't writing/producing/playing etc?
Sonny: See and create films. And eat at Señor Fish — it's a Mexican restaurant by our recording studio in Eagle Rock.
Laszlo: Same. I really like to cook too.
Isaac: Now for our non-music question: Name five things you can't live without?
Sonny: My watch, my dog Oscar, car, glasses and the Señor Fish shrimp/scallop burritos.
Laszlo: My cat Bruce Lee Bass, a good pen, Miranda July's No One Belongs Here More Than You, my glasses too and… yeah, any food item from Señor Fish.
Isaac: What is the most trouble you've ever gotten into when you are performing or on the road that you can let us in on?
Sonny: We've been good little boys.
Laszlo: Yeah, so far, no crazy stories.
Sonny: Except… Just kidding.
Isaac: Knowing what you know now, would you do it again?
Sonny: I would do again now that knowing what did… wait, what?
Laszlo: Ha-ha-ha (digital laugh).
Isaac: If you were not performing, what do you think you would be doing professionally and why?
Sonny: I'd be shooting more films! 'Cuz I luuuv it.
Laszlo: I would be doing what I already do; write music for film and build sculptures impossible to sell.
Isaac: What's your motto or the advice you live by?
Sonny: "There's no wrong way to something, as long as it's right for you."
Laszlo: "Everything is impossible until somebody does it."
Isaac: Ten years from now you will be….
Sonny: Teaching my kid to play his first instrument.
Laszlo: I kind of want to study music therapy at some point in my life.
Isaac: As a great send off, tell us about one of your greatest moments as a performer.
Laszlo: Seeing people dance to our music is pretty amazing.
Sonny: Hearing people clap after a song. And the burritos after the show.
Official Website:
http://www.thefakefurs.net/
Official Facebook Music Page:
https://www.facebook.com/fakefurs