Junior's Cave
Music Interview
with Indie Band,
Piqued Jacks
March/April 2015 Edition
MusicSUBMIT
 Weekly Music Series
---
by
 Isaac Davis Junior, BGS, 
MBA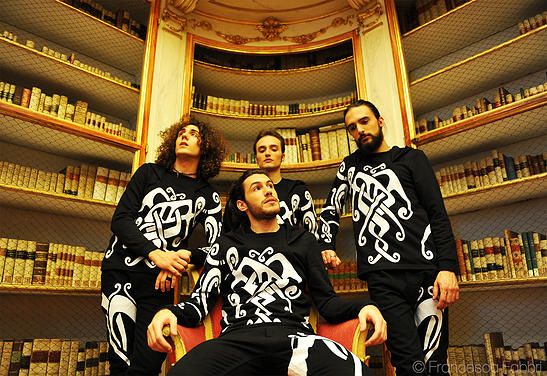 Piqued Jacks
Photo Courtesy of Piqued Jacks
It is our pleasure to present Piqued Jacks who are a passionate and polychromatic alternative/funk-rock band of brothers from Italy, now Austin-based. Our publication interviewed them in June of 2013 and easily was blown away by the band's music. Today, almost two years later, Indie Band Piqued Jacks continues to make music that is setting them apart from other groups currently out in the indie music scene. For those who are new to the band and their music, here is Piqued Jacks' amazing story.
Isaac: I would like to ask you for the readers of this online publication who have never heard your music, explain your sound in 5 words:
Piqued Jacks: We can do better, we can do it with three words: passionate, powerful, polychromatic.
Isaac: With respect to musical icons, who would you consider to be your most significant musical influences?
Piqued Jacks: The Red Hot Chili Peppers had a great influence on us, mostly because we saw them more as a family than as a band. Growing up, we got influenced a lot by Biffy Clyro, QOTSA, The Killers, The Mars Volta and Incubus. Right now, we're just trying to create our own sound.
Isaac: Do you have a favorite song to play from your collection so far?
Piqued Jacks: Does a whole album count? We like so much our new LP "Climb Like Ivy Does", we really can't pick one song.
Isaac: I am interested to know who you are listening to at the moment. What bands and artists should we have our ears on right now who you think deserve the spotlight?
Piqued Jacks: Recently, we've been listening to Enter Shikari, Colour Haze, Death Cab For Cutie and Port Noir. Going deeper in the underground scene we think Under The Bed and Shed Of Noiz (two badass bands from Tuscany) do deserve the spotlight.
Isaac: Since you write your own music; where do you draw inspiration from when you write songs and what's your favorite part about the process?
Piqued Jacks: Inspiration comes from everything and nothing, when we write a song it just happens. Being together in the same room is very inspiring, but so is being alone with an instrument.
Isaac: If you could go open up for any artist on tour right now who would it be?
Piqued Jacks: Oh well, the Foo Fighters. Not for the crowd, but for meeting Dave Grohl and the band instead.
Isaac: So, what's your favorite thing to do when you aren't writing/producing/playing etc?
Piqued Jacks: Each one of us has his own. We probably all agree with eating sleeping.
Isaac: Now for our non-music question: Name five things you can't live without?
Piqued Jacks: Films, Whataburger, Pizza, Friends, Oxygen.
Isaac: What is the most trouble you've ever gotten into when you are performing or on the road that you can let us in on?
Piqued Jacks: Luckily, we haven't gotten into big problems yet, only lots of funny scenarios.
Isaac: Knowing what you know now, would you do it again?
Piqued Jacks: Absolutely!
Isaac: If you were not performing, what do you think you would be doing professionally and why?
Piqued Jacks: Penguinsane would work as a sound engineer (he already does, he loves it), E-King would probably have a music-related job (such as band manager or producer, he's made for that), littleladle would be some kind of a journalist and ThEd0g doesn't really know.
Isaac: What's your motto or the advice you live by?
Piqued Jacks: "Climb Like Ivy Does". Don't ever forget your roots, and fight for what you love.
Isaac: Ten years from now you will be….
Piqued Jacks: Producing our fourth album in a nice sunny garden, and a giant statue of a rhino in the middle of it.
Isaac: As a great send off, tell us about one of your greatest moments as a performer.
Piqued Jacks: Just last week we had one of the best. We presented our new LP in our house-pub where we grew up as a band. All our families and friends were there, we didn't expect so much love. It was a beautiful night, we were all one with the people, everything was so simple yet so huge, emotionally speaking.
We'll get on the road soon for moments like that.
Official Band's Facebook Website:
https://www.facebook.com/piqued.jacks
Band's Official Website:
http://www.piquedjacks.com/